Winter has long been designated "woodworking season." So you'll need a heating system if you don't live in a warm climate. A space heater may be adequate to heat the shop while you're working, or you may have to install a more powerful system.

In addition to keeping you comfortable, a heated shop protects your investment if you live in a climate where temperatures fall below freezing for extended periods of time. That's because repeated freeze/thaw cycles cause condensation that can lead to rust on tools, and can stress lumber. This may cause boards to warp and crack. Also, many glues and finishes become unusable if they freeze. Also, keep in mind that you can comfortably work in a shop that's heated to around 65 to 70 degrees. If it gets much warmer, you may actually get too hot!

Shop Heating System Options

Thankfully, you'll find a variety of safe, efficient shop heating systems. Which type you choose depends largely on your climate, shop usage, budget, and building type.

Space Heaters. Some shops don't need a full heating system, and can get by with a small supplemental heater. You shop may qualify if it's located in an attached garage, in a basement, or if you live where winter temperatures don't dip below the freezing mark too often or for too long. In these shops, a simple space heater can provide adequate warmth while you're working. You'll most commonly find heaters that burn propane or electric units with quartz elements.

Many propane heaters are suitable only for well-ventilated garages, and require great caution because of their open flame. Some, though, are approved for indoor use. Because they shouldn't be left unattended, propane heaters can't heat the shop while you're not there.

Mr. Heater Indoor Propane Heater
Portable electric quartz heaters, on the other hand, are available in a variety of styles and price ranges. And some are designed specifically for use in shops and garages. Check out WBMarvin.com to see some examples of their "heavy duty" quartz heaters. Quartz heaters have no open flame, and some feature thermostats so you can control their heat output, and in some cases set them to keep your shop just above freezing all the time.

Built-In Systems. Heating systems for shops are similar to those for homes, with options in both gas and electric, and forced-air or radiant heating, as shown in the Illustration at top. Of course, shop systems generally don't require ducting and can be much smaller than home-heating systems.
The simplest heating systems to install are electric. That's because they can be hardwired into your existing electrical system or, in some cases, simply plugged in. You'll find baseboard radiant units and wall-mount forced air furnaces. If you have 220-volt service in your shop, opt for a 220-volt heater, which is usually more efficient and economical to run than a 110-volt model.

A gas system requires that you run lines or install a propane tank. This increases costs, but opens up more options. You may be able to pick up a used furnace inexpensively that was taken out of a home. Just make sure it's in good working order, and that it's set up for your heating gas: either propane or natural gas. Or you can get gas-fired units that mount to the wall or hang from the ceiling. With gas heaters, the best choice is one that draws outside air for combustion, rather than air from inside the shop. Known as "separated combustion," these eliminate the risk of drawing explosive fumes or dust into the furnace burner.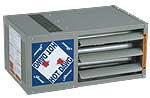 Hot Dawg Built-in Gas Heater
If you're building a new shop, consider installing an in-floor hydronic heating system. These use a series of tubes embedded in the concrete floor that carry hot water, which can be provided by a modest-size water heater. The warm water heats the concrete, turning it into a giant radiator that heats the shop without forced air that can stir up dust and dry out wood.

Whichever type of shop heating system you choose, check installation regulations for your area to ensure that it meets code requirements, and that it's approved by your insurance carrier. Also, add a thermostat so you can heat the shop just enough to keep the interior above freezing when the shop isn't in use.

By the way, I've known many woodworkers who heated their shop with a wood-burning stove, often stoked with scrap wood and "mistakes." Wood-burning stoves have lots of romantic appeal, but require extra effort. You have to tend the fire while using the shop and are left with no heat at all when the shop isn't in use. Plus, you usually have to increase insurance coverage if you have a wood-burning stove, especially if it's located in a garage.