Friday, July 29th, 2011
If you ever need to lay out a deck or another outdoor project, there's an easy way to make sure it's square using string and a tape measure. The technique is called the 3-4-5 method of measuring, and it's an easy way to make sure you accurately position deck posts so that the deck will be square and the joists will be perpendicular to the house wall.
The 3-4-5 method is really just a simple way to form a right triangle using basic math and the Pythagorean theorem. You just need a tape measure, some mason's line, and a few stakes. The Illustration below shows how it works for locating your deck posts.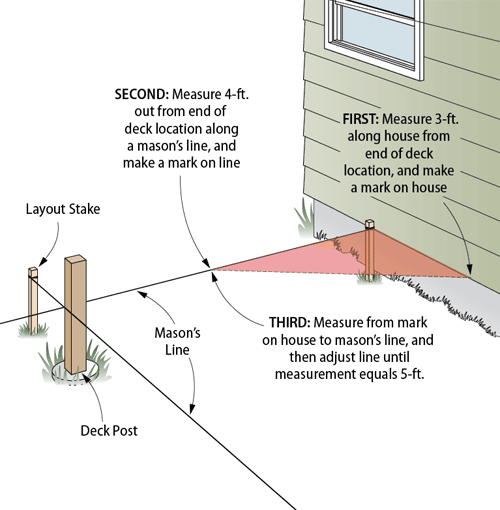 When laying out deck posts, you need to establish layout lines that are perpendicular to the wall of your house. The easiest way to do that is to measure and lay out a simple right triangle. Then use stakes and string to mark where the posts will go.
Of course, your deck will probably be more than 4-ft. deep, but you can easily double (6-8-10) or triple (9-12-15) the distances, or use fractions of the formula for a more accurate measurement at a further distance from the house wall.
Have a nice weekend,
Wyatt Myers
Online Editor, Workbench