Friday, May 27th, 2011
If you ever want to add storage or a patio under a deck, you'll need a means of keeping the area dry. There are numerous under-deck drainage systems available that can accomplish this goal. Some have to be professionally installed, while others, especially the ones meant to retrofit an existing deck, can be easily installed by any competent DIYer.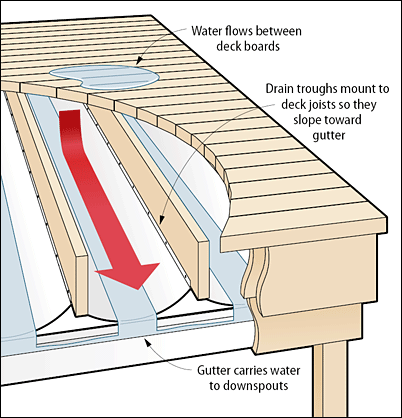 Deck drainage systems keep under-deck areas dry with simple troughs that fit under the deck boards. The troughs trap rainwater and redirect it into gutters and downspouts.
There are some differences in the systems, but all work on pretty much the same principle (Illustration, above). They consist of "troughs" that get installed under or in between the deck joists. As water runs through the deck boards, it collects in these troughs, which are tilted toward the outside of the deck. Then the water flows into a gutter-like system that directs the water to a downspout.
Have a nice weekend,
Wyatt Myers
Online Editor, Workbench