Friday, September 24th, 2010
If you've always been confused about which direction your ceiling fan should turn, the Illustration and explanations below should get you spinning in the right direction.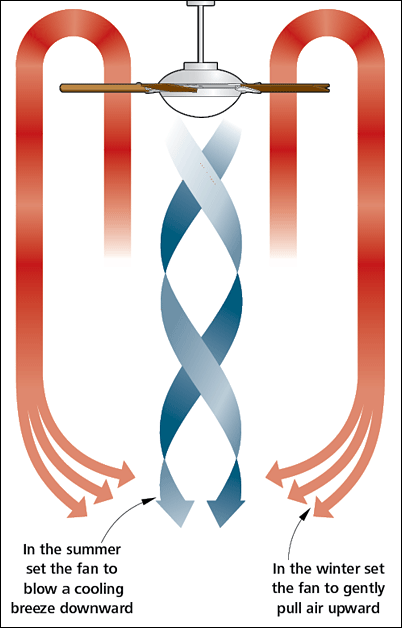 In the summer, you want the fan to help cool the house. To do that, set the fan so the blades blow the air downward. Stand under the fan, and if you feel the breeze blowing down on you, you're set. It's this breeze that helps keep you cool by moving air over you. You may also want to set the fan at a high speed to really move the air.
In the winter, you want the ceiling fan to help circulate the warm air for more even heating. At the same time, though, you don't want to feel a cooling breeze. The solution is to reverse the fan's rotation and set it at a low speed. That way, it will pull air up toward the ceiling and push the warm air that gets trapped there down the walls.
Have a nice weekend,
Wyatt Myers
Online Editor, Workbench