Friday, March 26th, 2010
The wide (14″) nozzle is arguably the most-used attachment on many shop vacuums. Its extra width makes it helpful for cleaning up piles of sawdust and other messes on the garage or shop floor.
Yet for all the use it gets, it seems the nozzle often spends more time pushing messes around than sucking them up. That's because older models of the nozzle produce tight suction against flat concrete floors, which makes them stick in places and prevents them from removing debris properly.
Newer models have changed the design to work more effectively, but even these have a tendency to wear down and develop the same problem over time.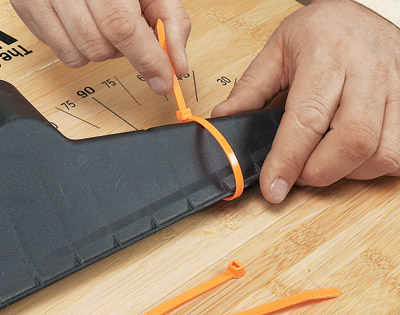 Add Cable Ties — Luckily, we came up with a 10-cent solution to this dilemma that takes about five seconds to implement. He just puts two plastic cable ties around the nozzle, one on either side, and pulls them tight (Photo above).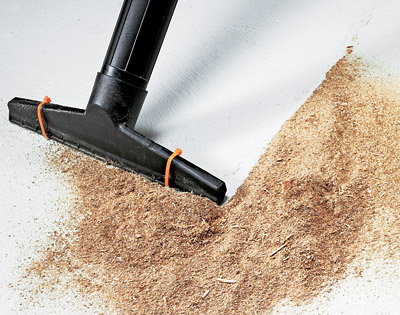 The cable ties create a 1⁄16" gap between the floor and the nozzle. And that 1⁄16" is enough of a difference that the nozzle now sucks up messes effectively (Photo above) instead of pushing them around.
Have a nice weekend,
Wyatt Myers
Online Editor, Workbench