Friday, February 26th, 2010
If you need to change your refrigerator door, so it opens from the right instead of the left, it's usually not a problem. Most refrigerators have the doors hinged on the left side, but it's often possible to reverse that.
To find out, check your owner's manual, or simply look at the top of the fridge. If you find plastic plugs on the non-hinged side, then you can reverse the door. The process is pretty simple.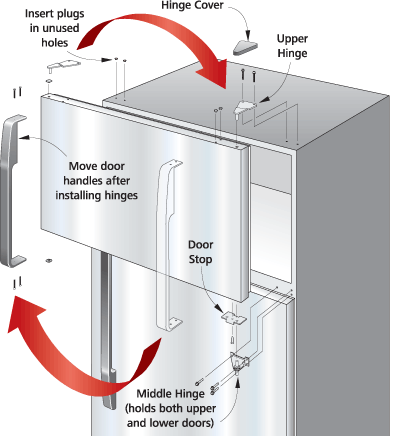 First, remove the top hinge, and then lift the upper door off its other hinge (Illustration above). Then remove the middle hinge, the lower door, and the bottom hinge. With the doors off, you can move the handles to the other side of each door. Now just remount the hinges and doors on the other side, starting at the bottom and working up.
Have a nice weekend,
Wyatt Myers
Online Editor, Workbench