Friday, October 30th, 2009
If you've always wanted to make picture frames, but the thought of getting all those pieces to line up correctly seems a bit intimidating, then this is the perfect project for you.
That's because these frames aren't technically frames — not in the true sense of the word, at least. Each "frame" is made from a single piece of 3?4″ MDF (medium-density fiberboard). The MDF is cut to size and then painted. A piece of clear acrylic covers the photo.
You'll also notice that we added a few decorative metallic touches to these frames. But if you look closely, you'll see that these are just ordinary nuts and screws that you can find at any hardware store.
Making your own "no-frame" picture frames isn't difficult. Just "picture" the following steps: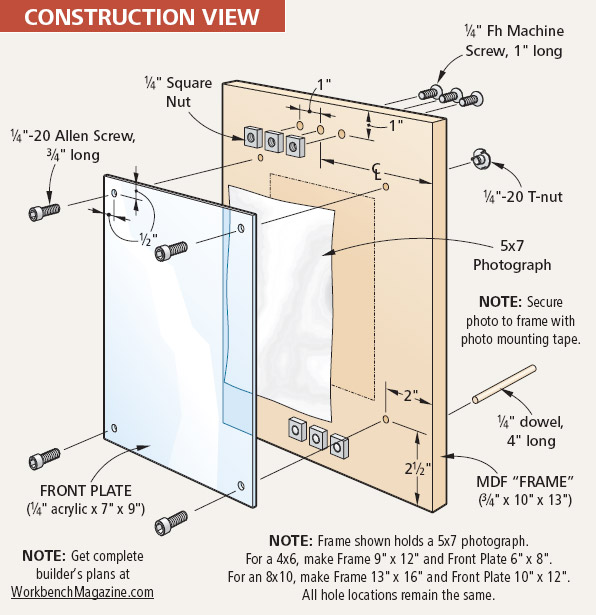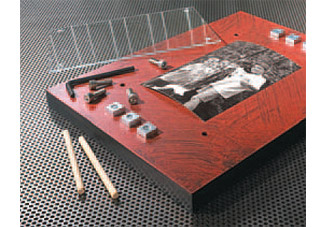 Gather your supplies, and cut the MDF panels to size as shown in the Construction View above.

Also cut the acrylic to size on the table saw. Sand the edges smooth, and then lay out and drill mounting holes in the corners.

You'll also want to carefully lay out and drill ten holes in the face of each panel. The three holes at the top and bottom are for the decorative screws and nuts, and the four holes closer to the center are for mounting the acrylic.

After drilling these holes, flip the MDF face down, and bore shallow counterbores around the four inner holes to accept the T-nuts. Also countersink the outer holes to accept the decorative screws (Screw Detail, above).

If desired, drill holes in the MDF to accept two dowels that allow the frame to sit on a table (Dowel Detail and Photo, above).

Prime and paint the frame, and allow it to dry.

Install the T-nuts, and then the machine screws and nuts.

Place a photo behind the acrylic, and tighten the Allen screws to secure it in place.
Have a nice weekend,
Wyatt Myers
Online Editor, Workbench