Friday, September 25th, 2009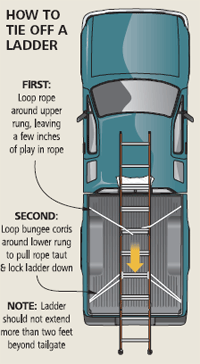 Most truck beds are too short to accommodate an extension ladder. But you can still haul one, even without a ladder rack, using this simple tip.
The trick is to rest the ladder on the cab and tailgate, rather than in the bed (Photo, below). In order for this setup to be safe, though, you need to take a few precautions. First, you'll want to pad the top of the truck cab with a blanket or towel. Then, loop a rope around a rung of the ladder, and secure it to the front tie-down hooks. The rope doesn't need to be taut at this point.
Now at the back, use two bungee cords to secure the ladder to the rear tie-downs, as shown in the illustration above-right. They'll pull back against the front rope, tensioning it and locking the ladder in place so it can't move.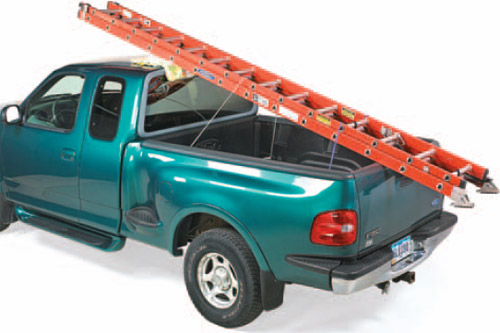 Have a nice weekend,
Wyatt Myers
Editor, Workbench