Friday, June 26th, 2009
Installing a ceiling fan where there used to be a light fixture used to be a big project. That's because you had to install support blocks in the ceiling to support the weight of the fan. But a new product called an expandable support bar has made that process easier.
The bar creates a sturdy mounting surface for the fan between two ceiling joists. Plus, it's easy to install.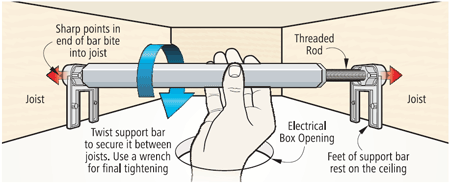 This expandable support bar will fit through an opening in the ceiling as small as the junction box it will ultimately brace. Then, with the feet of the brace resting on the top of the ceiling, you can expand the brace by twisting the hexagonal body by hand.
When the bar is expanded to span between the joists, a few more turns with a 1″ wrench will embed the points into the wood to secure it firmly. You can then attach the junction box using a U-bolt, flange, nuts, and washers, all of which are included with the support bar.
Have a nice weekend,
Wyatt Myers
Editor, Workbench