Friday, May 29th, 2009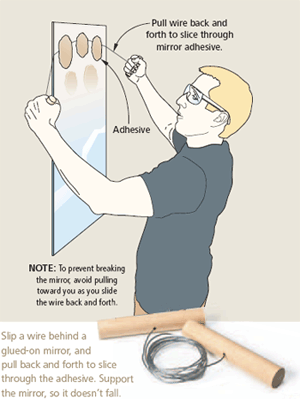 Many slab mirrors are installed with adhesive or tape rather than mechanical fasteners. But you can still remove them easily with a bit of care and this simple tip.
To remove the mirror safely, you can make a wire saw (Photo, right). Just head for the hardware store, and pick up a length of picture-hanging wire, a dowel, and a couple of small cable stops. Cut the dowel to make handles, and drill holes for the wire to pass through. Cut the wire to length, and then secure it to the handles using the cable stops.
To use the saw, just slip it behind the mirror, and cut your way through, as shown in the Illustration at right. On a larger mirror, you may need one person at each end.
Have a nice weekend,
Wyatt Myers
Editor, Workbench