Friday, April 24th, 2009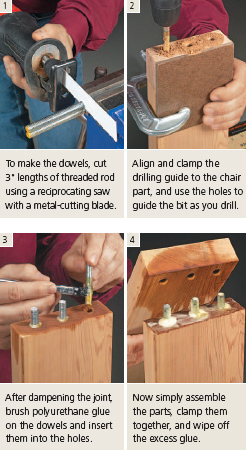 If you're building an outdoor project, a unique way to join pieces together is with a steel dowel joint. It fits together like a standard dowel joint, but the steel pieces add extra durability.
Steel dowels are incredibly strong, but you won't find them at your local hardware store. One solution is to cut them from threaded rod (Fig. 1). Or, you can purchase 3″-long threaded rods at McMaster.com (Part No. 95475A636).
Even though they're steel, the dowels are only as strong as the glue that bonds them to the cedar. We used polyurethane glue for that (Fig. 3). This type of glue is activated by water, so mist all contact surfaces before applying the glue. Also, be sure to wipe off any glue squeeze-out. It foams as it cures, and the hardened foam is difficult to remove.
Have a nice weekend,
Wyatt Myers
Editor, Workbench