Friday, March 27th, 2009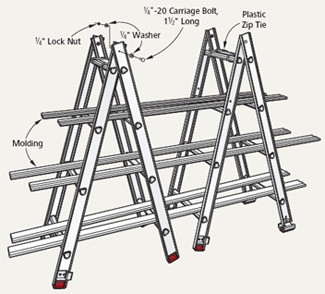 Rather than taking your worn-out extension ladder to the dump, you can turn it into a multi-purpose rack. The rungs provide a handy place to store freshly painted moldings while they dry. It can also be used on a jobsite for temporary lumber storage.
To make the rack, cut both sections of an extension ladder into two equal lengths. Make sure the rungs align, and then drill holes and bolt the pieces together to form a couple of A-frame stands. Tie each A-frame together around the top rungs with zip ties to provide additional stability. The rack can be disassembled and stored when not in use.
Have a nice weekend,
Wyatt Myers
Editor, Workbench