Friday, February 27th, 2009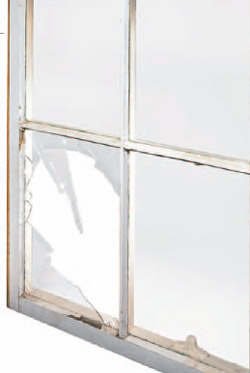 Replacing single-pane glass isn't difficult. But there are a few simple techniques that will ensure the glass is sealed well and that the new glazing stays in place for the long haul.
Before you start, gather your tools and supplies. For tools you'll need a utility knife, putty knife, gloves for handling the broken glass, pliers, sandpaper, and a paint brush. You may want a heat gun to soften the old glazing compound. Supplies include exterior primer, glazing points for attaching the glass, glazing compound, and new glass.
Replacing the glass is easier if you can remove the sash and lay it flat. But you can work on it in place if necessary.
To size the glass correctly, measure the height and width of the opening, and then subtract 1?8″ from each dimension. That gives a little clearance for fitting the glass into place.
The next step is removing the old broken glass. Wear gloves to protect your hands from the sharp edges.
Now use a utility knife to dig out the old glazing. Be careful not to gouge the wood. If the old glazing is hard, you can soften it with a heat gun. Use pliers to remove the glazing points that held the old glass.
Next, sand the area to ensure a clean, smooth surface. Then brush a coat of primer on the exposed wood.

Before setting the glass into the opening, you need to create a seal by putting a thin coat of glazing compound on the stop that the glass rests against. An easy way is to roll glazing putty into a 1?8″-diameter "rope." Lay this on the glass stop, and then flatten it by hand. Now press the glass carefully into the compound (Fig. 1), and secure it with glazing points every 4″ to 6″.
Next, push glazing compound into place around the perimeter of the glass (Fig. 2). Neatness doesn't count. You'll smooth the glazing in the next step.
Use a putty knife or glazier's tool to smooth the putty and remove excess compound (Fig. 3). Then reinstall the sash. Let the compound cure (which takes up to two weeks) before you paint.
Have a nice weekend,
Wyatt Myers
Editor, Workbench