Friday, January 30th, 2009

While installing new trim, you'll find that you often have to trim a tiny amount off the length of a workpiece to make it fit perfectly.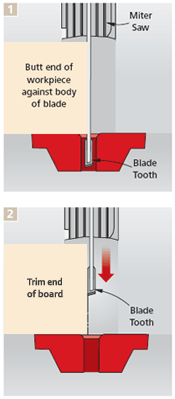 After several frustrating occurrences of cutting off just a bit too much with a miter saw, we found that the best way to "sneak up" on the cut was to use the saw blade itself as a "stop" to position the workpiece.
With the cutting head in the "down" position and the saw not running, butt the end of the workpiece against the body of the blade (not the teeth), as in Fig. 1. Then hold the piece in position, and raise the blade. Now power up the saw and make the cut (Fig. 2) to remove just a sliver of material.
Have a nice weekend,
Wyatt Myers
Editor, Workbench