Friday, December 26th, 2008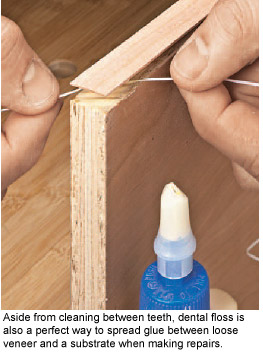 One of the primary challenges of repairing old furniture is re-gluing veneer that is separating from its substrate.
Getting enough glue between the loose veneer and the substrate is often difficult, though, and we have broken off enough pieces of brittle veneer to know that lifting the thin material to make space is rarely the answer.
The solution is to use dental floss to drag glue into the area being repaired. First, dip the floss into a puddle of glue, and then use a seesawing motion to spread the glue between the veneer and substrate.
Have a nice weekend,
Wyatt Myers
Editor, Workbench