Friday, November 28th, 2008
If you have pipes that bang loudly when the washing machine finishes filling with water, this is called "water hammer" or "pipe shock." It happens when the water-shutoff valves in the washing machine close rapidly. The flowing water slams into the valves, creating back pressure and a shock wave inside the pipes. As a result, the pipes rattle and bang.
Aside from being annoying, the banging could eventually cause a pipe to crack, work loose at a joint, or get worn from rubbing, which could create a leak. Luckily, the solution is simple.
You can buy inexpensive water-hammer arrestors at the home center or appliance store. These just screw onto the water supply spigots, and the hoses for the washer screw onto the arrestors (below).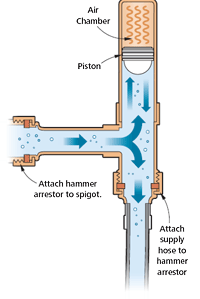 The arrestors work like a shock absorber. The tall chamber has a piston inside that holds back a supply of air above it (illustration). The chamber below the piston fills up with water. When the water flow shuts down, back pressure pushes the piston up, absorbing the shock and preventing the shock wave in the pipe.
Have a nice weekend,
Wyatt Myers
Editor, Workbench