Friday, February 29th, 2008
Tangles of extension cords in a workshop are not only annoying, but potentially dangerous. Here's a solution that keeps a cord stowed safely overhead.
The extension cord holder works like this: a plastic-coated cable is secured to two opposite walls, and the cord is tied to curtain hooks that can be pulled along the cable above a work area.
First, secure eye screws to opposite walls. Then, attach a turnbuckle to one of the eye screws (Wall Mounting Detail). Using cable clamps, secure the coated cable to the turnbuckle. Pull the cable tight while a helper installs the cable clamps, and then use the turnbuckle to tighten the cable.
Using "zip"-style cable ties, attach curtain hooks to the extension cord every 2 to 4 feet, and leave enough slack on both ends of the cord as needed. Wipe the cable with silicone to help the hooks slide more easily, and attach the hooks to the cable.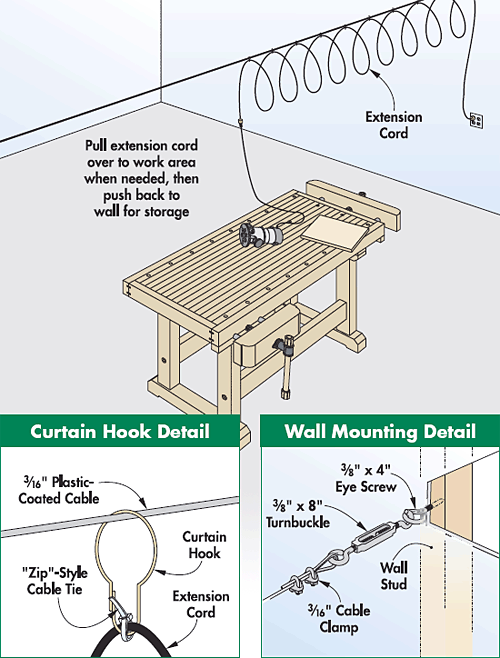 Have a nice weekend,
Wyatt Myers
Online Editor
Workbench Magazine