Friday, December 28th, 2007
During a recent remodeling project, I removed some old bi-fold closet doors. Rather than throw them out, I decided to use them as utility shelves. These bi-fold doors are incredibly lightweight and, unlike some other types of shelving, they're not as likely to sag when loaded down.
This is because a bi-fold door is actually a torsion box (Illustration, below left). It gets its strength from a thin plywood "skin" that's glued to an inner web
of cardboard.
The strength of a torsion box relies on the glue bond between the web and the skin, so cutting into the skin will weaken the shelf. If you need to cut the shelf to fit a particular space, make a wood filler strip to fit into the open end, and then glue it in place (Filler Strip Detail).
Once that's done, mount brackets to the wall studs to support the shelf. Even though the shelf is sturdy, don't space the brackets more than 32″ apart. Also, to ensure the shelf is attached securely to the brackets, drive screws into the solid-wood pieces around the edges and ends of the door.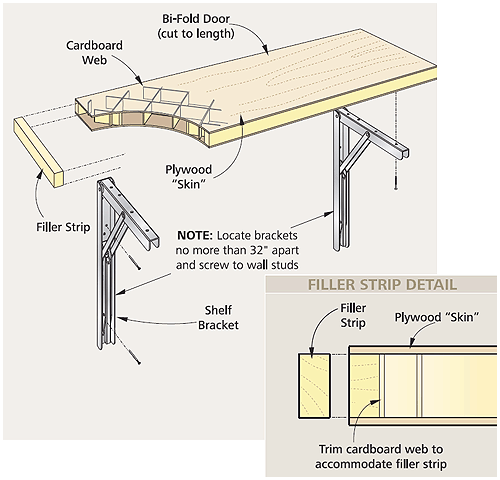 Have a nice weekend,
Wyatt Myers
Online Editor
Workbench Magazine