Friday, October 26th, 2007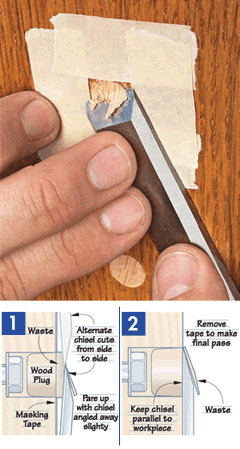 Ideally, wood plugs should be flush with the face of the surrounding area. And that's easy to accomplish on an unfinished project – just sand the plugs flush. But if you ever have to plug a project that's already finished, you'll need to do it without damaging the surrounding finish.
To do that, start by masking off the area around the plug (Photo). That done, it's time for some chisel work. To avoid tearing out the wood fibers of the plug, carefully pare off thin slices of material, slicing in from the rim of the plug toward the center (Fig. 1). As you work, keep the chisel handle low, so the blade angles up slightly. And if you're using face-grain plugs like we did, be sure to shave at a 30° to 45° angle to the grain. This increases chisel control and reduces the risk of tearout.
You'll need to peel off the tape to remove the remaining material. Then pare off the waste as before, only this time keep the blade flat against the post (Fig. 2). Complete the job by 'spot-finishing' the plug.
Have a nice weekend,
Wyatt Myers
Online Editor
Workbench Magazine