Tuesday, September 25th, 2007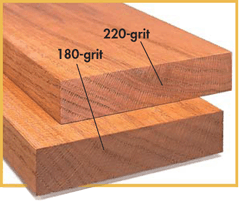 When it comes to staining wood, one all-too-common problem is ending up with end grain that's darker than the face grain of a board.
The simple reason for this starts at your saw blade. Crosscutting wood always leaves a rougher surface on the end grain. And when you stain this rougher surface, it inevitably retains more of the color.
So the easiest solution is to sand the end grain more thoroughly than the face grain. In the two examples at above left, the end grain and face grain of the lower board were sanded the same, through 180-grit. But the end grain on the upper board was sanded more thoroughly with each grit, and then received a final pass with 220-grit before being stained.
Have a nice weekend,
Wyatt Myers
Online Editor
Workbench Magazine