Thursday, August 30th, 2007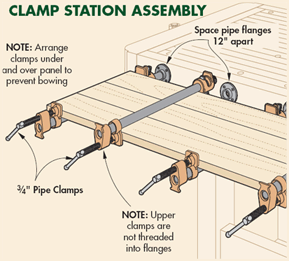 My workbench is without a doubt the most useful "tool" in my shop. The surface of the bench, in particular, is far too valuable to tie up while waiting for a glued-up assembly to dry.
So when I have glue-ups that I need out of the way, I temporarily attach pipe clamps to the side of the bench (Clamp Station Assembly). This creates a large clamping area, while still leaving the top of my bench free for other work.
When they're needed, the clamps are held in place with round pipe flanges that are fastened to the side of the bench with screws. (Pipe flanges are available in the plumbing department at home centers and hardware stores.)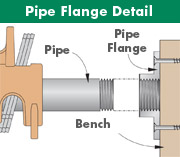 To use the clamping station, simply thread the ends of the pipe clamps into the flanges, as shown in the Pipe Flange Detail. Then glue and clamp the boards as usual. As with any glue-up, be sure to clamp on top of the panel, as well, to avoid bowing.
Have a nice weekend,
Wyatt Myers
Online Editor
Workbench Magazine