Friday, May 25th, 2007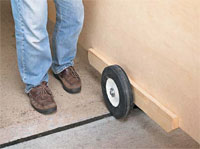 It seems the older I get, the harder it is to move full sheets of material around by myself. Of course, it doesn't
help that some types of material like 3/4" medium-density fiberboard weigh in at almost 100 lbs. per sheet. So to make it easier to transport sheet stock, I made a simple two-wheeled cart (Photo, left).
The cart consists of a pair of 2×4 sides with a spacer sandwiched between to form an opening that holds the sheet (Illustration, below). You'll want to make the spacer about 1″ thick, so you can lower a 3/4″ sheet down into the opening without any trouble. It also helps to rout a chamfer on the upper inside edge of each side.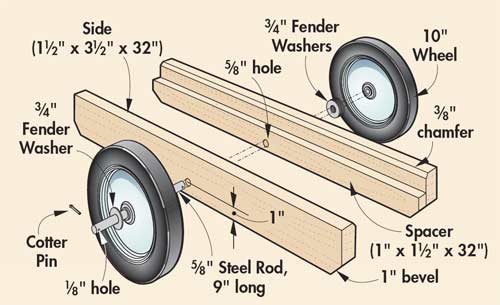 To make the cart mobile, I purchased a pair of 10″ wheels at the hardware store. There are smaller ones available, but these large wheels are easier to roll over uneven floors. The wheels are connected by an axle made from a 5/8″ steel rod. Large fender washers prevent the wheels from binding against the sides. And cotter pins hold the wheels on the axle.
Have a nice weekend,
Wyatt Myers
Online Editor
Workbench Magazine